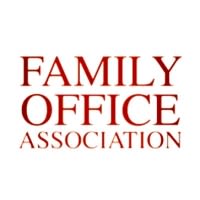 Family Office Association is a global community of ultra-high net worth families and their single family offices. We are committed to creating value for each family that we serve; value that grows wealth, strengthens legacy, and unites multiple generations by speaking to shared interests and passions. Our organization delivers private education and networking opportunities, proprietary research, and access to salient thought leadership that will interest all generations of your family.

Family Office Association offers Digital Membership subscriptions for access to our high-quality online content and resources. For approved families and their single family offices or family firms, we offer Premium Memberships that include private event invitations. To find out more or apply, please visit our website.

We also offer a limited number of Corporate Partnerships through our Resource Council. If you think your firm aligns well with our core missions and can offer high value insight and resources to our family members, please apply for a Resource Council seat at our website.
Industry Role:
Service/Specialty:
Investment Types Serviced:
HedgeFund

PrivateEquity

ManagedFutures

Executives and Employees
#
Contact Info
Location
1.

Angelo Robles

Founder and Chairman

                                                                Angelo Robles is the founder and CEO of the Greenwich CT based Family Office Association (FOA), an exclusive global membership organization that delivers proprietary thought leadership, research, b...
                                                 

View Profile

&nbsp&nbsp &nbspGreenwich, Connecticut, US
ALL ALPHAMAVEN CONTENT IS FOR INFORMATIONAL PURPOSES ONLY. CONTENT POSTED BY MEMBERS DOES NOT NECESSARILY REFLECT THE OPINION OR BELIEFS OF ALPHAMAVEN AND HAS NOT ALWAYS BEEN INDEPENDENTLY VERIFIED BY ALPHAMAVEN. PAST PERFORMANCE IS NOT INDICATIVE OF FUTURE RESULTS. THIS IS NOT A SOLICITATION FOR INVESTMENT. THE MATERIAL PROVIDED HEREIN IS FOR INFORMATIONAL PURPOSES ONLY. IT DOES NOT CONSTITUTE AN OFFER TO SELL OR A SOLICITATION OF AN OFFER TO BUY ANY INTERESTS OF ANY FUND OR ANY OTHER SECURITIES. ANY SUCH OFFERINGS CAN BE MADE ONLY IN ACCORDANCE WITH THE TERMS AND CONDITIONS SET FORTH IN THE INVESTMENT'S PRIVATE PLACEMENT MEMORANDUM. PRIOR TO INVESTING, INVESTORS ARE STRONGLY URGED TO REVIEW CAREFULLY THE PRIVATE PLACEMENT MEMORANDUM (INCLUDING THE RISK FACTORS DESCRIBED THEREIN), THE LIMITED PARTNERSHIP AGREEMENT AND THE SUBSCRIPTION DOCUMENTS, TO ASK SUCH QUESTIONS OF THE INVESTMENT MANAGER AS THEY DEEM APPROPRIATE, AND TO DISCUSS ANY PROSPECTIVE INVESTMENT IN THE FUND WITH THEIR LEGAL AND TAX ADVISERS IN ORDER TO MAKE AN INDEPENDENT DETERMINATION OF THE SUITABILITY AND CONSEQUENCES OF AN INVESTMENT.