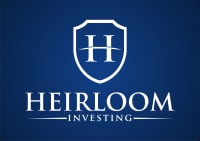 Heirloom is a $600mm AUM (end April 2021) alternative investment manager, specializing in capacity-constrained investments that stand to benefit from long-term trends or are subject to market dislocations that cause their value to deviate materially from fundamentals.

Heirloom is a pioneer in macro-thematic investing, which focuses on allocating capital to areas supported by long-term trends. This follows the same principles identified by McKinsey as what will take institutional investors "from big to great". We focus on understanding the return drivers of each investment, which allows us to understand how they will interact together to comprise a portfolio.

Heirloom is proactive and nimble, with a particular expertise in "esoteric alternative" investments, that would be beneficial to most portfolios but that are difficult to access for individual investors or more mass-focused private banks or investment consultants. This allows us to access these opportunities at the peak of their risk-reward cycle, often exiting them once the masses have discovered them and the return has been driven down and the risk driven up.
Industry Role:
FundManager
InvestorAllocator
Investor Type:
MultiFamilyOffice

InvestmentCompany

Investment Interests:
Office Locations
| # | Location | Address | |
| --- | --- | --- | --- |
| 1. | Dubai, إمارة دبيّ, AE | Sheikh Zayed Rd - Trade CentreTrade Centre 2 - إمارة دبيّ - United Arab Emirates - 41st Floor | |
| 2. | Toronto, Ontario, CA | 1027 Yonge St, Toronto, ON M4W 2K9, Canada - 2nd Floor | |
| 3. | Wilmington, Delaware, US | 501 Silverside Rd, Wilmington, DE 19809, USA - 105 | |
Executives and Employees
#
Contact Info
Location
1.

Geoff Dover

Chief Investment Officer

                                                                An investor from the age of 6 (with a little help from my father), I began my career as an Investment Banker with Donaldson, before spending a decade as a Private Equity professional with Canada's ...
                                                 

View Profile

&nbsp&nbsp &nbspWilmington, Delaware, US

2.

Beth Hirshfeld

Vice President

                                                                Beth is Vice-President, Marketing and Corporate Development at Heirloom Investment Management.  Previously, Beth practiced commercial and securities law at Blake, Cassels & Graydon LLP, one of Cana...
                                                 

View Profile

&nbsp&nbsp &nbspWilmington, Delaware, US
ALL ALPHAMAVEN CONTENT IS FOR INFORMATIONAL PURPOSES ONLY. CONTENT POSTED BY MEMBERS DOES NOT NECESSARILY REFLECT THE OPINION OR BELIEFS OF ALPHAMAVEN AND HAS NOT ALWAYS BEEN INDEPENDENTLY VERIFIED BY ALPHAMAVEN. PAST PERFORMANCE IS NOT INDICATIVE OF FUTURE RESULTS. THIS IS NOT A SOLICITATION FOR INVESTMENT. THE MATERIAL PROVIDED HEREIN IS FOR INFORMATIONAL PURPOSES ONLY. IT DOES NOT CONSTITUTE AN OFFER TO SELL OR A SOLICITATION OF AN OFFER TO BUY ANY INTERESTS OF ANY FUND OR ANY OTHER SECURITIES. ANY SUCH OFFERINGS CAN BE MADE ONLY IN ACCORDANCE WITH THE TERMS AND CONDITIONS SET FORTH IN THE INVESTMENT'S PRIVATE PLACEMENT MEMORANDUM. PRIOR TO INVESTING, INVESTORS ARE STRONGLY URGED TO REVIEW CAREFULLY THE PRIVATE PLACEMENT MEMORANDUM (INCLUDING THE RISK FACTORS DESCRIBED THEREIN), THE LIMITED PARTNERSHIP AGREEMENT AND THE SUBSCRIPTION DOCUMENTS, TO ASK SUCH QUESTIONS OF THE INVESTMENT MANAGER AS THEY DEEM APPROPRIATE, AND TO DISCUSS ANY PROSPECTIVE INVESTMENT IN THE FUND WITH THEIR LEGAL AND TAX ADVISERS IN ORDER TO MAKE AN INDEPENDENT DETERMINATION OF THE SUITABILITY AND CONSEQUENCES OF AN INVESTMENT.