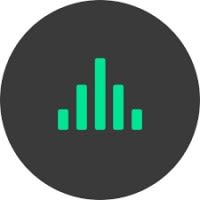 Tickeron is a web-based, interactive Financial Marketplace. Our company has developed state-of-the-art Artificial Intelligence (A.I.) that can optimize portfolios based on asset allocation and stock selection, and that can also identify dozens of technical trading patterns for thousands of stocks. Our A.I. can be used to generate investment ideas or to recommend changes to investment strategies.

The advent of our proprietary A.I. led to the creation of the Diversification Score®. The Diversification Score® is the credit score of investing -- just as a credit score will provide its owner with a clear and thorough understanding of their credit standing, so will a Diversification Score® inform the investor how optimally (or sub-optimally) their portfolio is allocated. For simplicity, the Diversification Score® uses the same scale as the credit score (400-850).

For investors and those interesting in learning more about investing in the stock market, the Tickeron website provides endless resources. Users can access (and create) webcasts, newsletters, investment clubs/groups, informative blog posts, and a comprehensive library of investment terms.

For advisors and thought leaders in the investment community, Tickeron provides a platform on which you can share, broadcast, and/or sell your ideas. You can connect with clients or users seeking advice and use online tools to manage your relationships.
Industry Role:
Service/Specialty:
Investment Types Serviced:
ALL ALPHAMAVEN CONTENT IS FOR INFORMATIONAL PURPOSES ONLY. CONTENT POSTED BY MEMBERS DOES NOT NECESSARILY REFLECT THE OPINION OR BELIEFS OF ALPHAMAVEN AND HAS NOT ALWAYS BEEN INDEPENDENTLY VERIFIED BY ALPHAMAVEN. PAST PERFORMANCE IS NOT INDICATIVE OF FUTURE RESULTS. THIS IS NOT A SOLICITATION FOR INVESTMENT. THE MATERIAL PROVIDED HEREIN IS FOR INFORMATIONAL PURPOSES ONLY. IT DOES NOT CONSTITUTE AN OFFER TO SELL OR A SOLICITATION OF AN OFFER TO BUY ANY INTERESTS OF ANY FUND OR ANY OTHER SECURITIES. ANY SUCH OFFERINGS CAN BE MADE ONLY IN ACCORDANCE WITH THE TERMS AND CONDITIONS SET FORTH IN THE INVESTMENT'S PRIVATE PLACEMENT MEMORANDUM. PRIOR TO INVESTING, INVESTORS ARE STRONGLY URGED TO REVIEW CAREFULLY THE PRIVATE PLACEMENT MEMORANDUM (INCLUDING THE RISK FACTORS DESCRIBED THEREIN), THE LIMITED PARTNERSHIP AGREEMENT AND THE SUBSCRIPTION DOCUMENTS, TO ASK SUCH QUESTIONS OF THE INVESTMENT MANAGER AS THEY DEEM APPROPRIATE, AND TO DISCUSS ANY PROSPECTIVE INVESTMENT IN THE FUND WITH THEIR LEGAL AND TAX ADVISERS IN ORDER TO MAKE AN INDEPENDENT DETERMINATION OF THE SUITABILITY AND CONSEQUENCES OF AN INVESTMENT.